On 15th March 1962, President John F. Kennedy championed consumer rights to the US Congress. This was the first time in history that a politician had set out such principles. In the years to follow, the consumer movement refined this vision into a set of eight basic consumer rights*.
These now define much of the work carried out by consumer organisations such as the NCF. The eight consumer rights are:
*Source: Consumers International
How do you know who you can trust?
The internet has changed the way that consumers interact with businesses. There are numerous trust schemes, which offer ratings, reviews and 'approval' for products and services. These influence levels of trust and the way we make choices.
In 2013, the NCF investigated this issue by conducting a study of 12 online trust schemes. Our research examined what constituted a 'good' trust system from the consumer perspective. Our findings were published in a report 'Trust Schemes for Consumers', which analysed the practices being used by trust schemes, and the impact these might have on consumers.
We identified five key elements needed to support and maintain consumer trust in a 'good' trust scheme: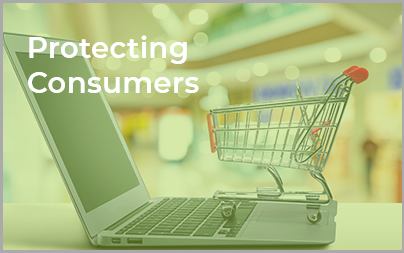 Consumers with vulnerabilities
Speaking up for consumers with vulnerabilities
All consumers are different. Our ability to deal with certain transactions or communications can vary from person to person, and from day to day.  Anyone can be vulnerable at any time. Consumer vulnerability can be caused by a variety of factors, such as illness, disability, or a change in personal circumstances such as bereavement.
Consumers in vulnerable circumstances might make incorrect or inappropriate decisions leading to financial loss, exploitation or other detriment. For example, they might be unfairly denied access to a product or service that they want, or end up with something that is unsuitable for their needs.
The NCF speaks up for all consumers, but particularly those who may be vulnerable due to age, disability, health or circumstance.
We want to stamp out unfair and inflexible practices that exacerbate problems, and lead to detriment, for vulnerable consumers.  For example, poor accessibility and communications, unclear terms and conditions, misuse of personal information, unfair targeting and abuse of market dominance.
To enable us to keep in touch please sign up today